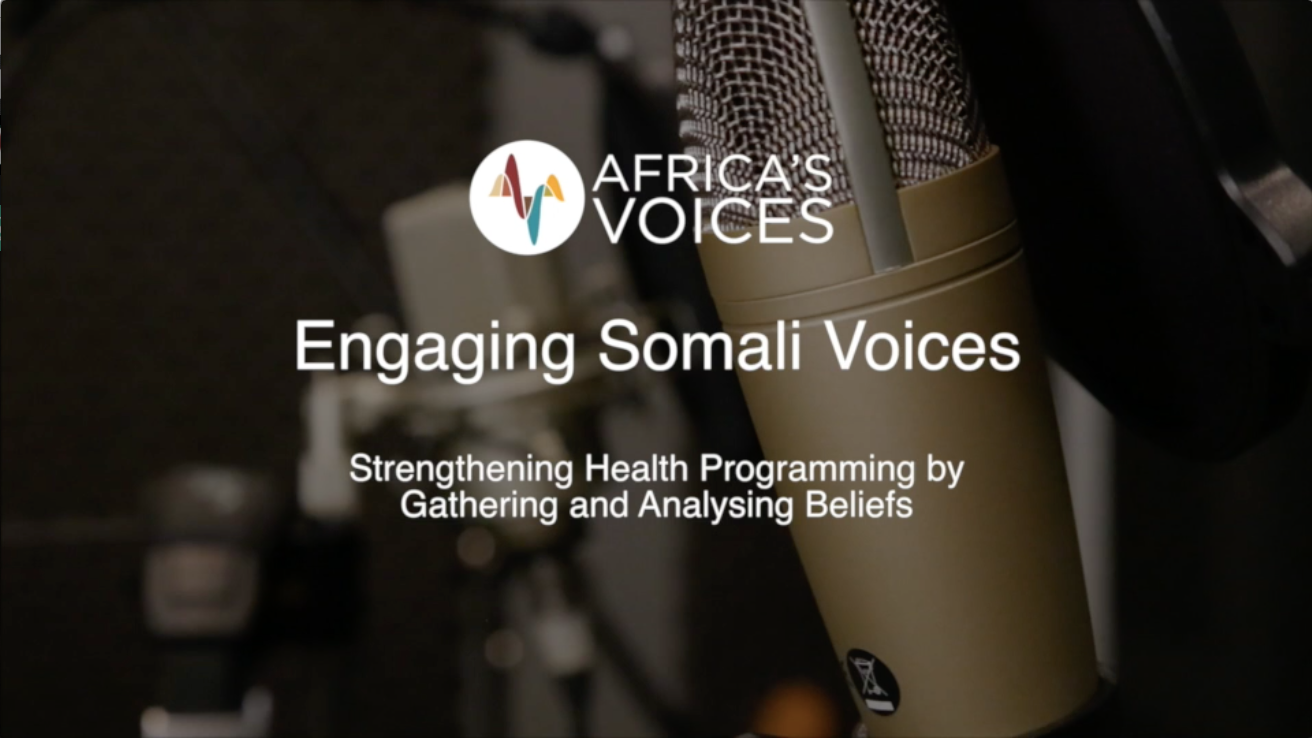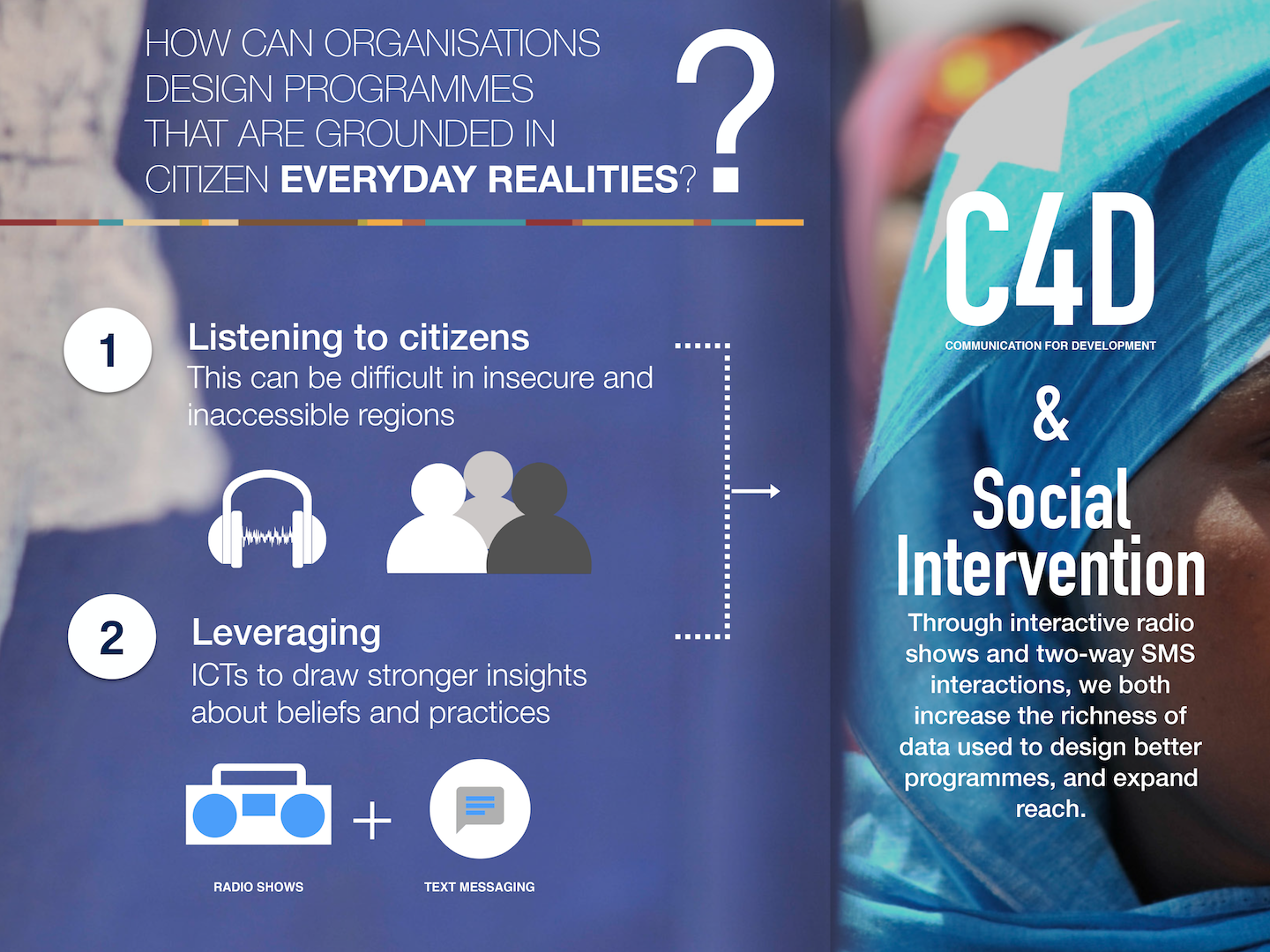 Background
The predominant challenge in developing effective and responsive programmes for health is in drawing strong insights about beliefs and practices in hard-to-reach places.
As radio and text-messaging reaches an incrementally larger portion of populations, particularly in Somalia, these can be leveraged to draw rich social and health data.
Africa's Voices Foundation has partnered with UNICEF Somalia to learn more about a range of health issues. In collaboration with our partner, MediaINK, interactive radio shows were launched.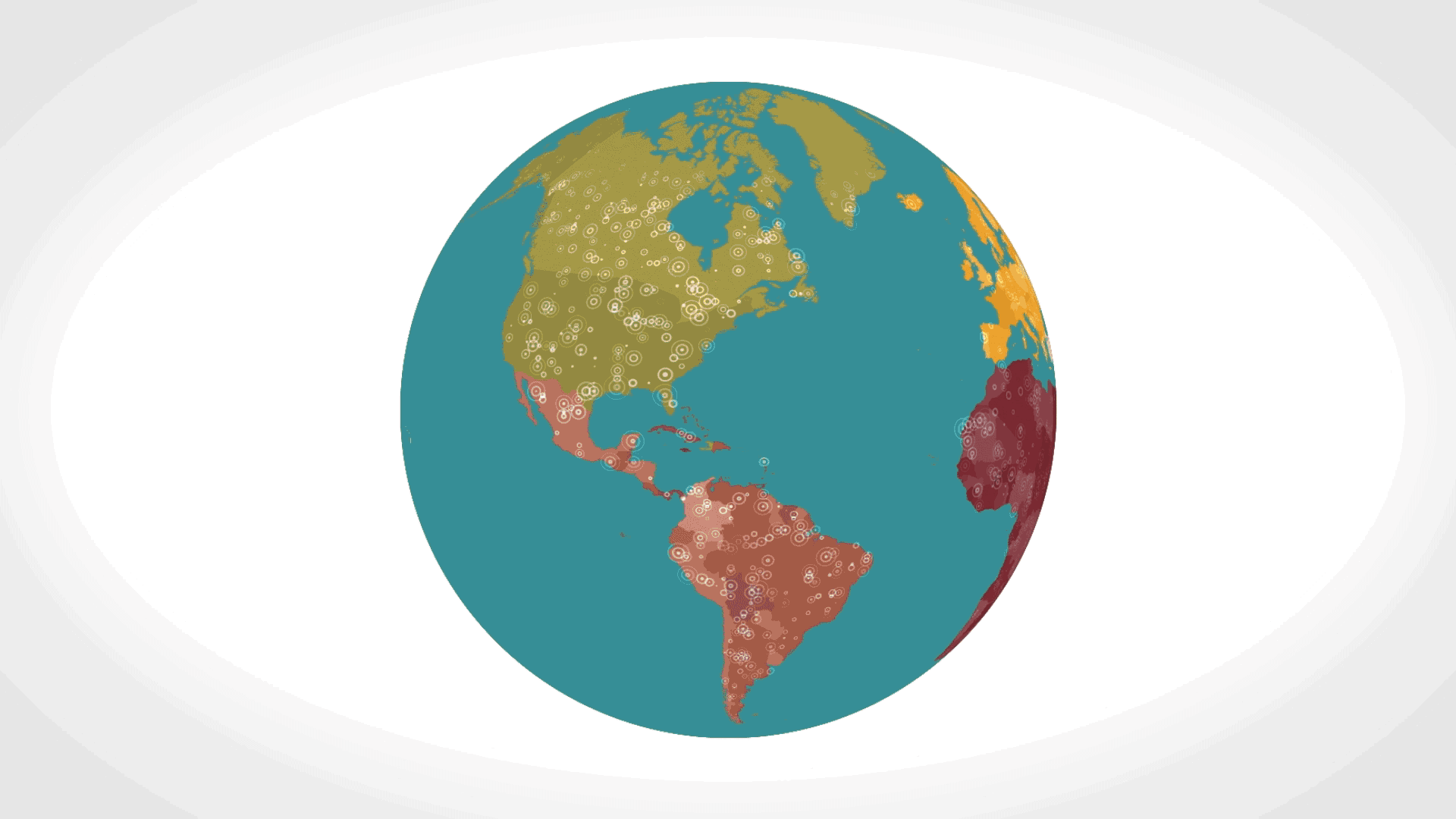 In combination with SMS, this allows two-way radio shows to engage with citizens in a popular and trusted forums.
At the core of these shows is the mission to amplify the voices of citizens; through direct insights and feedback from the people who participated, we have been able to gather and analyse practices and beliefs on issues including immunisation and maternal, neonatal, and child health.
Innovating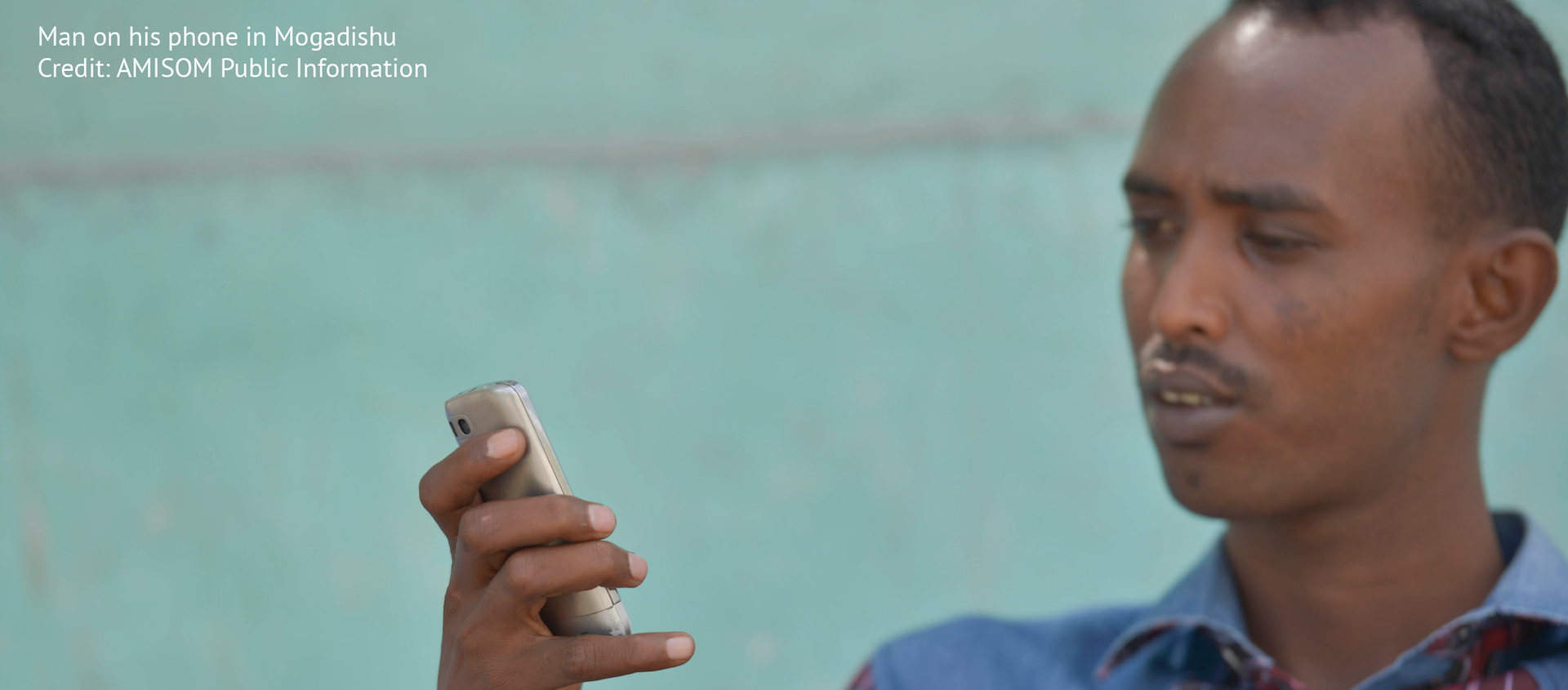 There are significant obstacles in Somalia, which impede UNICEF's ability to make effective interventions:
In many areas of Somalia, UNICEF is in a unique position as the sole provider of social and health services. Yet women and children are often difficult to reach by UNICEF, as areas where services are needed the most are often the most insecure and inaccessible (such as Puntland).
This is very much an evidence, data, and accountability challenge.
There is a need for new and innovative ways of collecting and analysing citizen data. On the one hand, understanding people's beliefs and practices enables UNICEF to conduct better programming in the future. On the other hand, Africa's Voices approach is very much a Communications for Development intervention in itself -- with an increasing reach -- helping to spread knowledge and awareness of health issues and behaviours.
Africa's Voices has leveraged the fast-paced evolution of Communication Technologies of recent years to gather data from hard to reach populations.
At least half of Somalia's population have access to mobile telephones, which are a major source of receiving and sharing news (via SMS).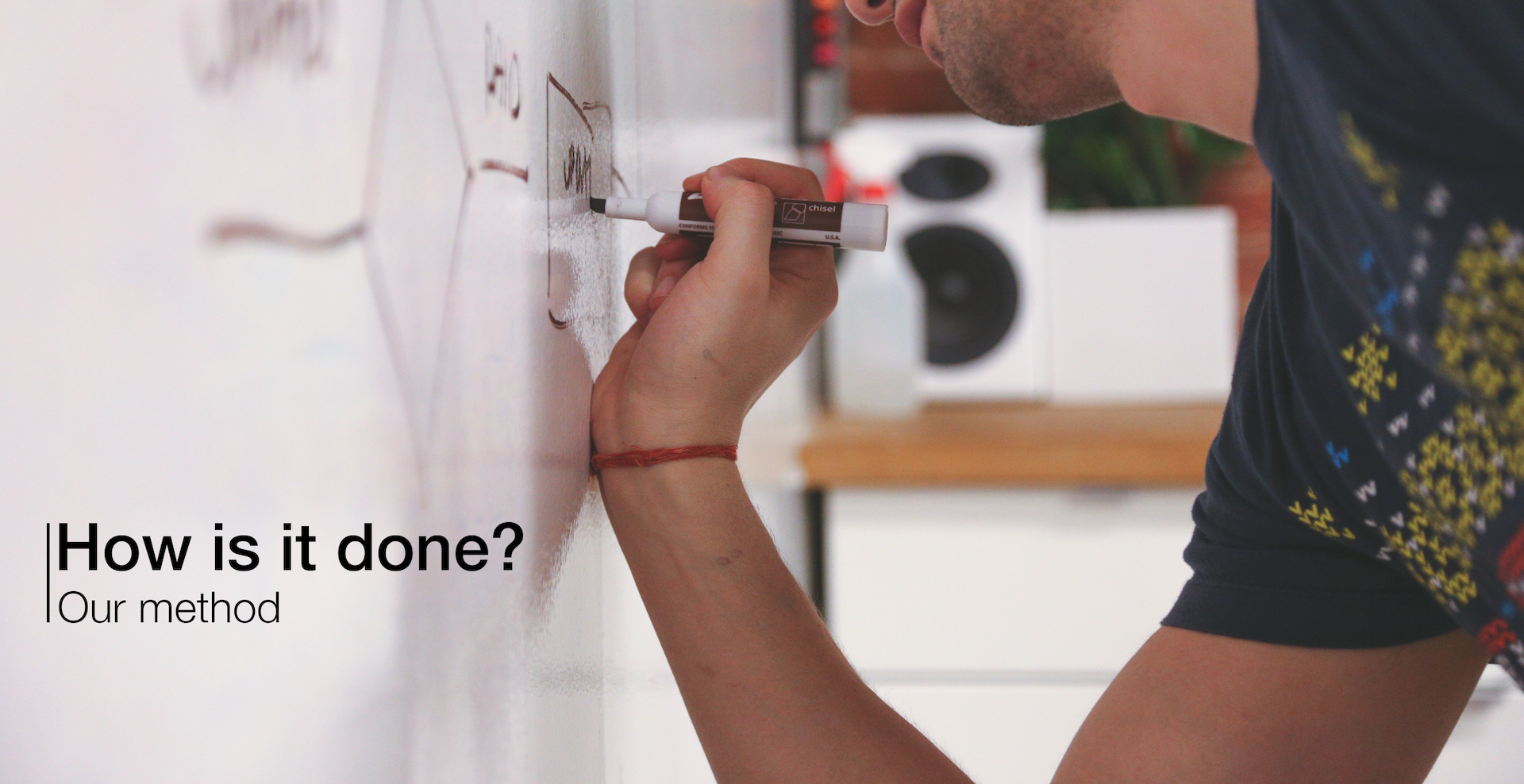 Data Collection & Analysis
Our work is contingent on the collaboration of social scientists, data scientists and Somali research assistants. Through a good understanding of the language and cultural context, Africa's Voices' researchers draw from data- and social-science to extract, analyse and visualise rich data for UNICEF.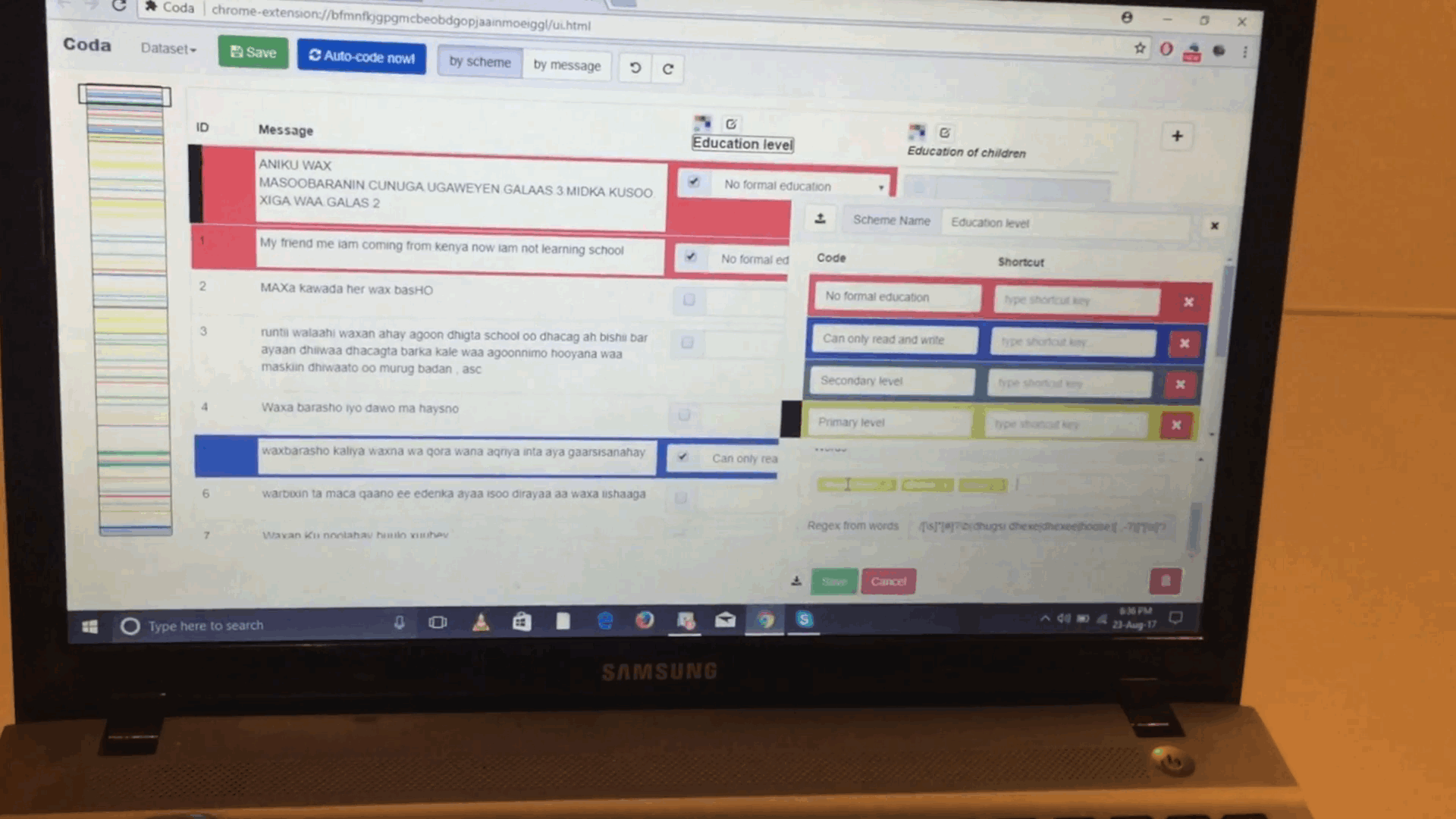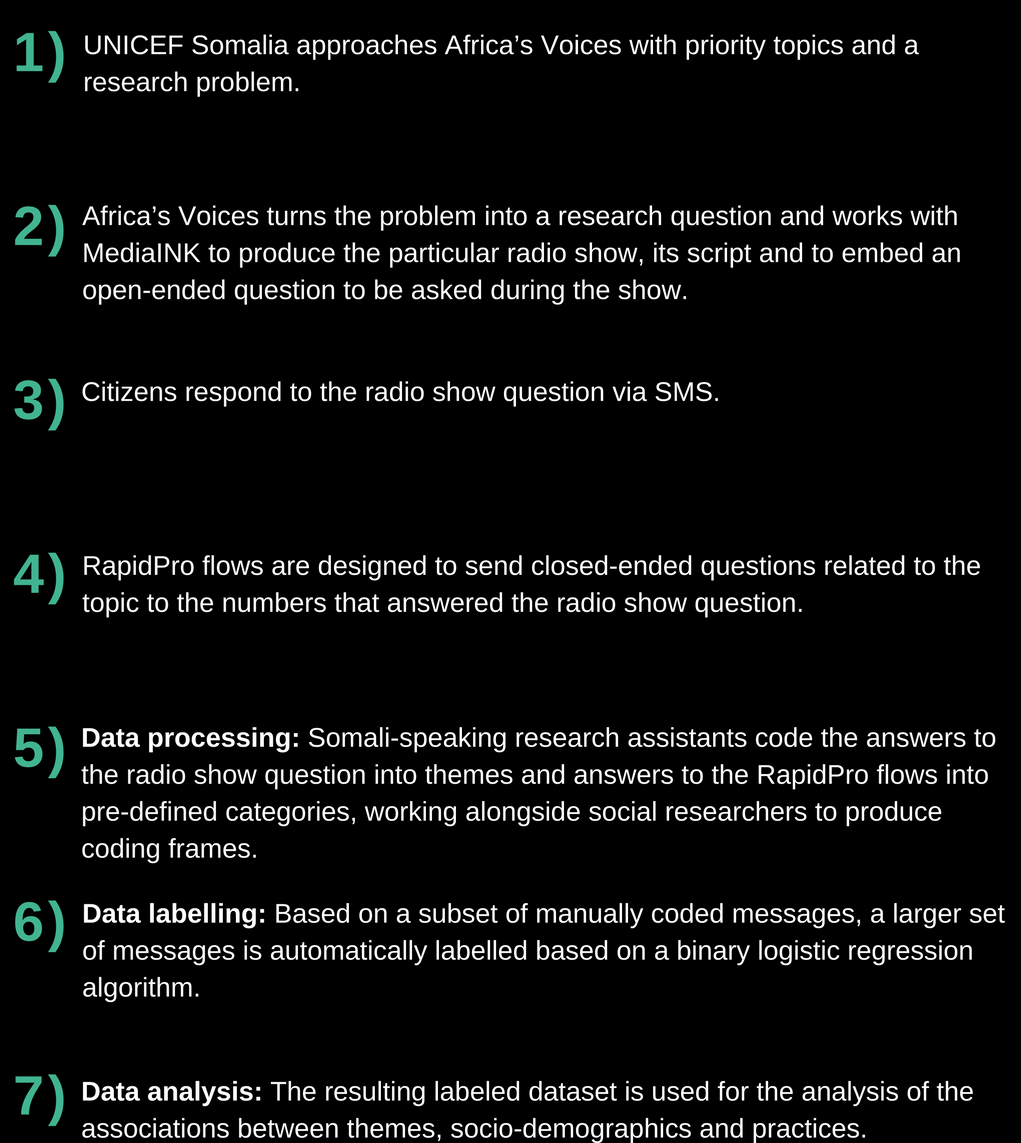 This method allows us to answer research questions including, but not limited to: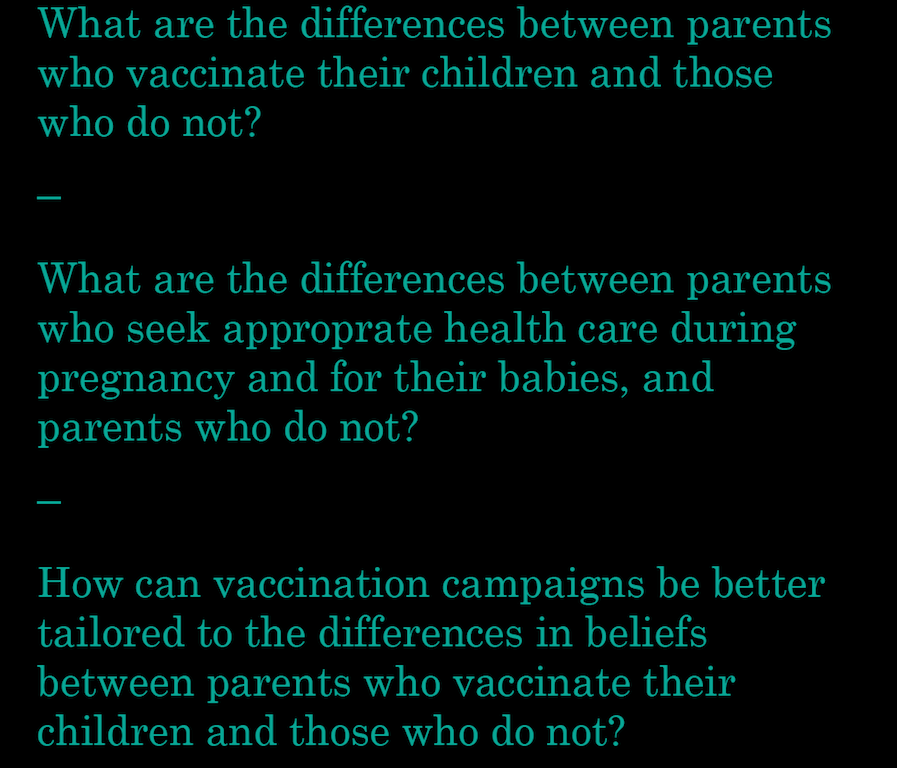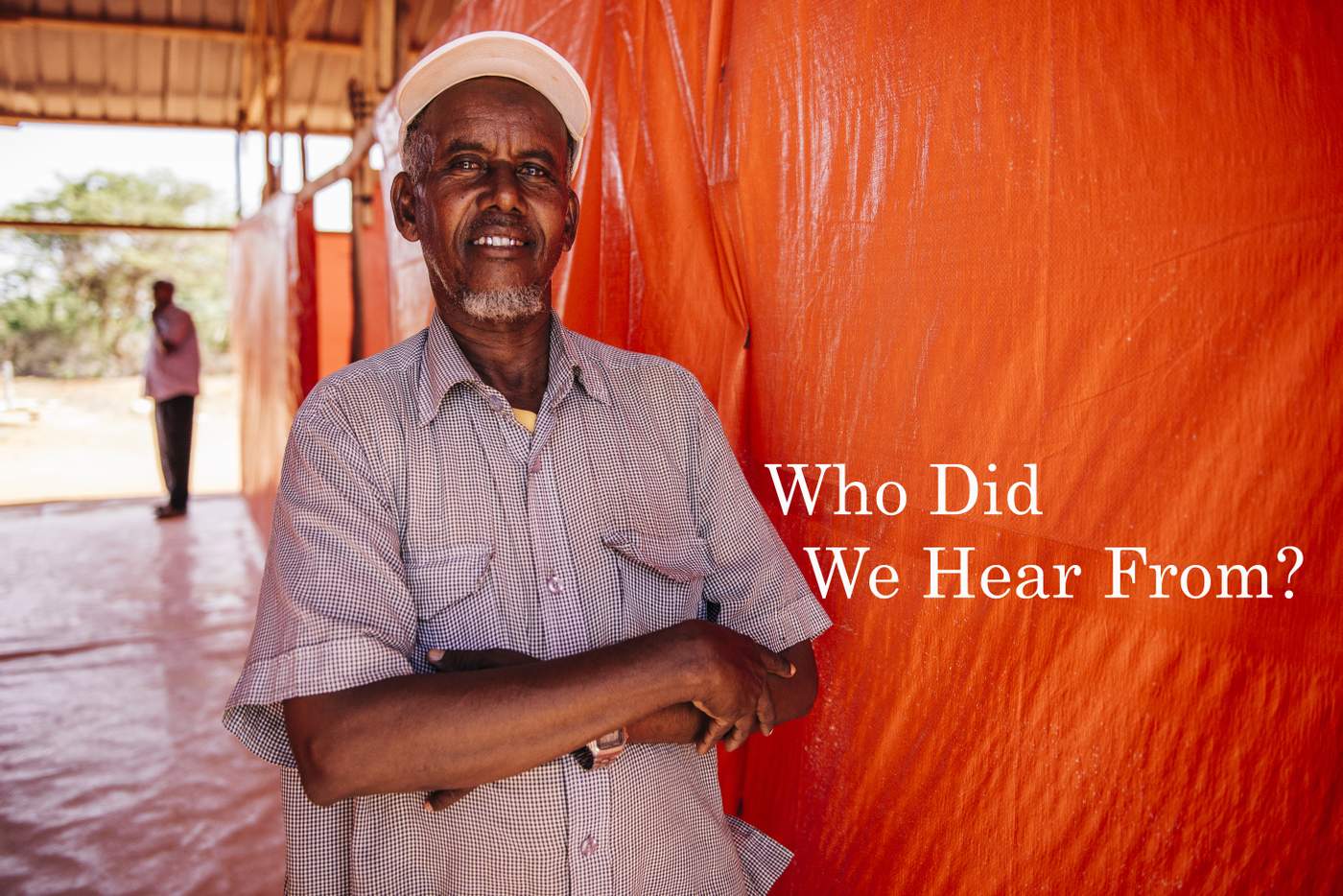 Valuing Voices
There is no denying that citizen data matters, but voices must be valued even more. Through Africa's Voices' method, NGOs and governments can participate in a platform with a focus on engagement with - rather than extraction from – citizens. This approach adds particular value to the process of evidence-based policy-making.
Africa's Voices engagement strategies have so far reached a large diverse cross-section of Somali people (a large proportion of whom were women, and young people between the age of 15-29).
Case Study A

Polio & Maternal Health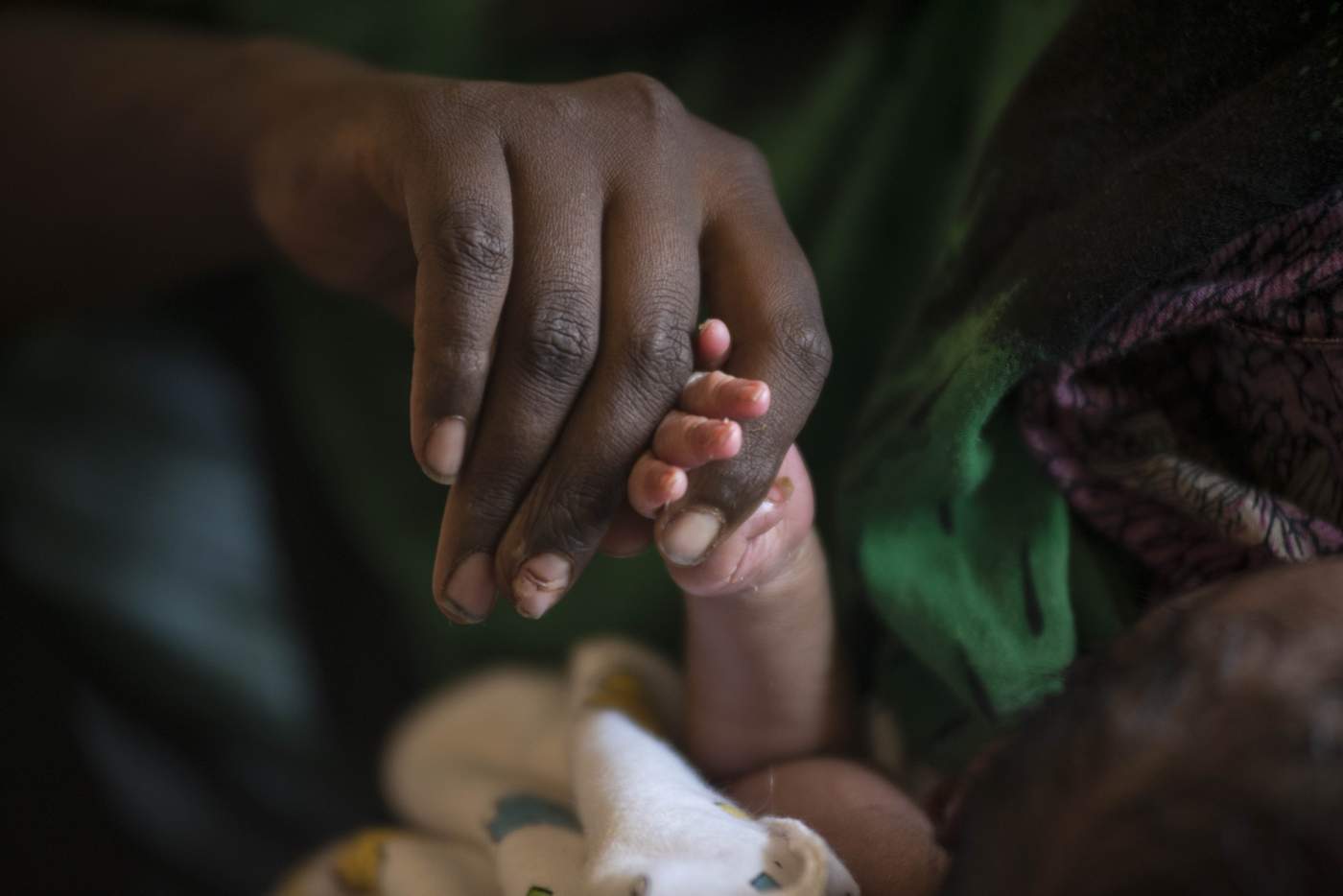 Identifying Beliefs
From an eight-week interactive radio project in 2015, we were able to gain insight into beliefs and behaviours related to immunisation and maternal health, as well as determine how these vary according to gender, age, and location.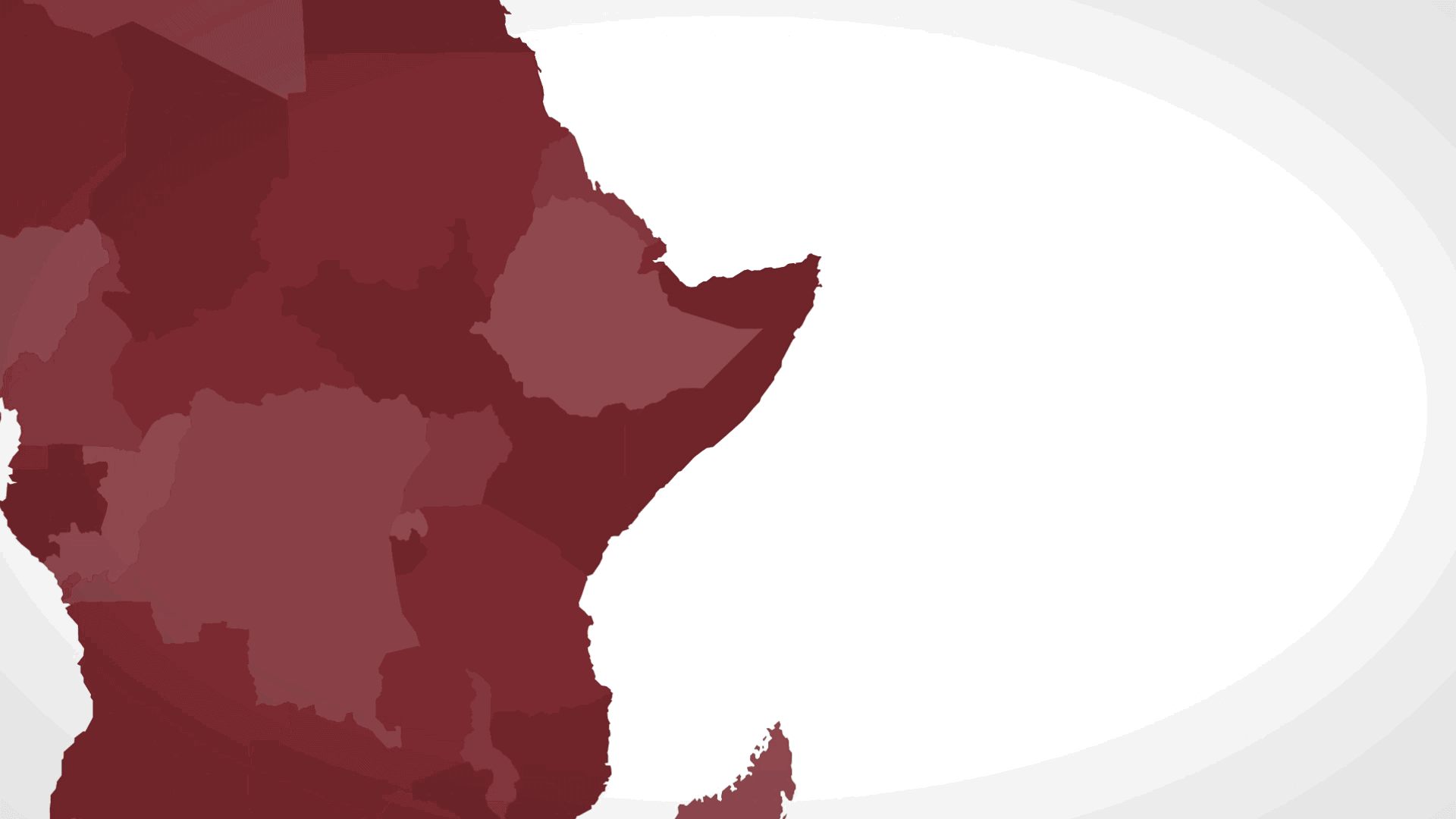 For example, rural areas tend to have the lowest perceived risk of polio at 51.9%, followed by urban areas at 68.5%, and nomads at 70%.
To those who participate in the radio shows, we send follow-up SMS questions to gather extra information that help to answer our overarching research question. Explore the interactive player below to see participants' answers to the SMS question: Where would you go to receive medical treatment?
A low perceived risk of polio was often associated with cleanliness (hygiene, clean air, and spiritual purity). Some mentioned that rural communities were less at risk given their access to open, clean air, the sun and fresh camel milk. A few perceived polio as being associated with non-Muslims and those who lack faith.
Answers to the SMS question: How do you prevent polio?
This initial project with UNICEF provided invaluable knowledge of Somali people and their everyday realities, which has proven particularly useful in evaluating and improving the effectiveness of programme strategy.
Using remote, technology-based research methods, risks experienced by UNICEF's on-the-ground staff are also effectively mitigated.
Case Study B

HIV/AIDS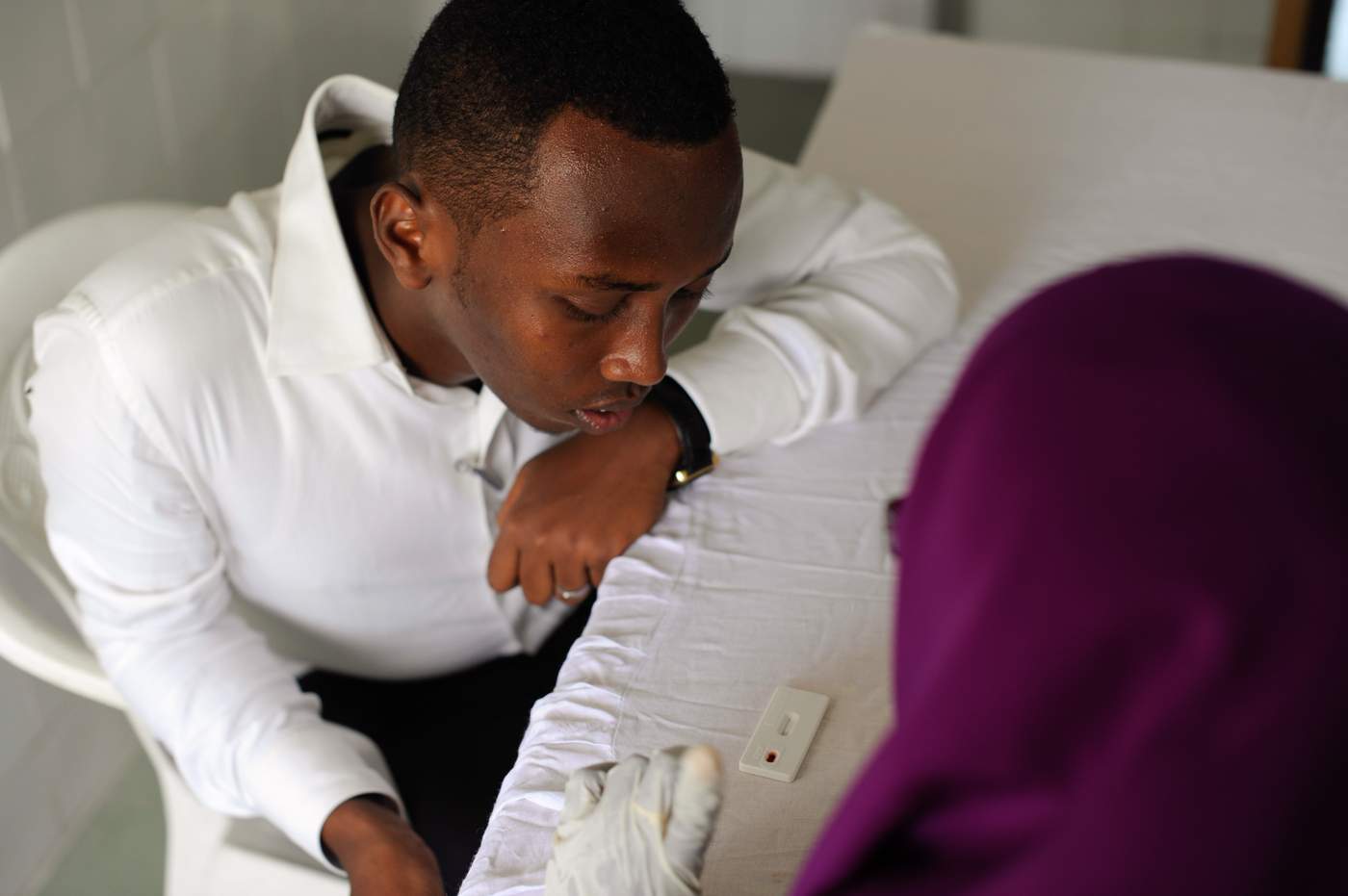 Identifying Stigma & Social Practices
What are the collective beliefs in regards to acceptance/discrimination of people living with HIV/AIDS (PLWHA), and how do these vary between demographic groups?
____________________________________________________________________
As part of an ongoing radio series in 2016-17, one week of broadcasting received 8624 messages in response to a question aired regarding the perceived acceptance of people living with HIV/AIDS (PLWHA). This included 6793 unique phone numbers within 67 districts across Somalia.
This made it one of the most popular shows to date broadcast on various health issues. 75% of these respondents were regular participants, and 25% were new audience members, which suggests that more controversial topics can be discussed on the radio with an engaged audience.
We developed a coding framework, through which we could analyse and summarise beliefs, in matrices such as the ones below. Reasons for discriminating against - or accepting - people on the basis of having HIV/AIDS, can be seen in these.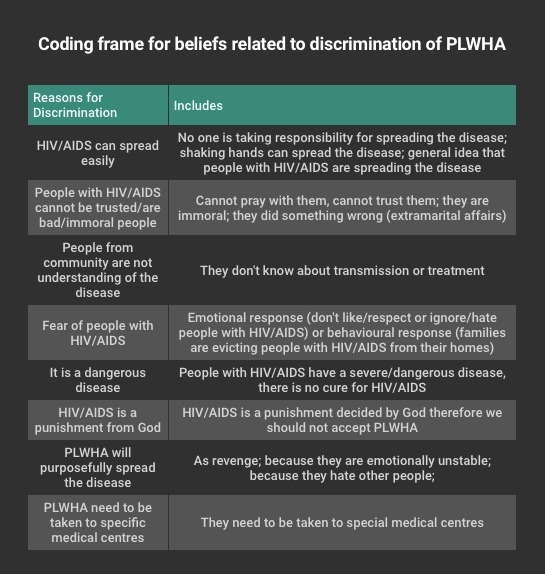 Text messages sent in response to our radio questions can in this way elevate the sentiments of individuals, and bring about a greater granular understanding of attitudes towards specific issues.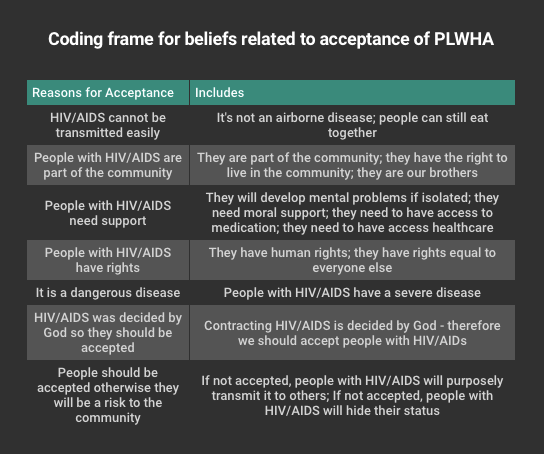 Looking to the Future
Africa's Voices is uniquely positioned to both help organisations draw rich insights, and to perform a Communications for Development intervention in its own right. Via expanding the reach of its radio projects, it is able to generate a greater network through which knowledge about communities, peoples, practices and beliefs are more easily accessible.
Our approach is currently being deployed across a number of different contexts, including UNICEF's work with the World Food Programme on food distribution with cash transfers to beneficiaries. Starting with a three-month pilot in Bay and Bakool, 25,000 beneficiaries will receive monthly cash-transfers to support their non-food item (NFI) needs. At the same time, 9,000 Somali returnees from the UNHCR refugee camp in Dadaab, Kenya, now living in the southern parts of Somalia, are set to receive cash transfers to support their return and reintegration.
Africa's Voices will broadcast monthly voice messages directly to beneficiaries' mobile phones (using interactive voice response technology) to inform them of the cash response programme's details. In parallel, we will set up an SMS feedback loop to which beneficiaries can register complaints or issues they face in accessing their cash transfer in real-time. This data will be accessible and visualised for the UNICEF emergency team. Monthly post-distribution SMS surveys will allow for effective and near-time programme monitoring and evaluation.
Advantages
Bespoke Research
Africa's Voices has helped UNICEF improve their knowledge of Somali people and their everyday realities, using remote, technology-based research methods, yielding rich and inclusive insights.
Our tailored analytics and expanding lexicons of languages helps us elevate voices, and generate higher quality feedback for any programme or organisation.
Measurable Impact
Organisations will be better able to evaluate the effectiveness of their strategy over the long run if they can measure the impact of their programmes on particular sections of the populations, using innovative methods.
Extending Reach
Africa's Voices observes that engagement improves over time. By deploying longer term two-way radio projects, organisations can build their reputation active listeners to Somalia.
Contact us
Designed by Matthew S. Mahmoudi (mm2134@cam.ac.uk)