Voice. Dialogue. Evidence. Action.  Read Africa's Voices Annual Report 2019 While it's never easy to distill the work that Africa's..
29 April 2020 Our co-founder Dr Sharath Srinivasan joined a prestigious panel of humanitarian practitioners to discuss understanding the concerns,..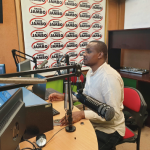 On March 8th, we launched a collaboration with Radio Africa Group to air Public Service Announcements (PSAs) and interactive radio..