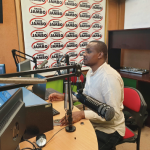 On March 8th, we launched a collaboration with Radio Africa Group to air Public Service Announcements (PSAs) and interactive radio..
Containing and stopping the new coronavirus pandemic requires equitable access to trusted, reliable information. Nonetheless, rapidly informing and empowering communities..
Dear AVF's clients and Partners,  This is a brief note to update you on our response to the COVID-19 outbreak. ..