29 April 2020 Our co-founder Dr Sharath Srinivasan joined a prestigious panel of humanitarian practitioners to discuss understanding the concerns,..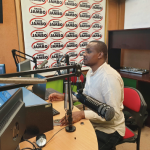 On March 8th, we launched a collaboration with Radio Africa Group to air Public Service Announcements (PSAs) and interactive radio..
Containing and stopping the new coronavirus pandemic requires equitable access to trusted, reliable information. Nonetheless, rapidly informing and empowering communities..