Following the outbreak of COVID-19 pandemic in Somalia in March 2020, AVF launched Risk Communication and Community Engagement (RCCE) response and Social Behavior Change Communication (SBCC) campaign, to address the norms that undermine the fight against the pandemic. According to the responses received, the campaign has been described as informative by the host communities. We sat down with AVF's Imaqal "Listen To Me" Programme Officer, Samatar Abdi who shared his experience working on the project and its impact on the people of Somalia. Below are his reflections: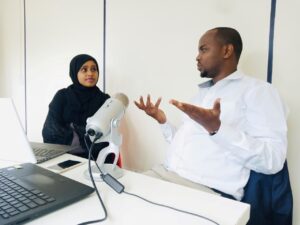 Briefly describe the Imaqal "Listen To Me," project and  transition to address COVID-19 pandemic in Somalia? 
Since late 2018, Africa's Voices Foundation in partnership with MediaINK has been building a well-  known communications for development media brand in Somalia, called Imaqal ('listen to me'). In partnership with MediaINK, AVF has been delivering a national Gender Equality and Social Inclusion social and behavioural communications programme that is a flagship project under this strategic priority for the Somalia Stability Fund (SSF). This multimedia intervention broadcasts on 30 FM radio stations across the country, reaching an estimated audience of nearly 900,000. 
During the emergence of the COVID-19 pandemic, we embarked on implementing a locally-tailored, strategically designed and evidence-driven communication intervention that aimed to tackle the impact of COVID-19 on gender equality and social inclusion. We quickly deployed this trusted media for the social change space of Imaqal to deliver effective risk communications and community engagement during Somalia's COVID-19 crisis. Central to the approach and its ethos was to build trusted two-way communication spaces for both listening to citizens and informing audiences with approved Public Health (PH) messaging, while supporting other national responders with valuable data.
How was the experience implementing the COVID-19 Risk Communication and Community Engagement (RCCE) response and Social Behavior Change Communication (SBCC) campaign in Somalia?
It was a timely, relevant and gratifying experience. The overall aim was to create awareness amongst Somali community on gender and social inclusion inequalities emerging from effects of COVID 19 and reinforce  gender sensitive RCCE  amongst most marginalized groups. Trust is vital in a health crisis, especially for dispelling rumours and misinformation, managing anxiety and fear, and positively influencing healthy community practices and attitudes.
How unique was the campaign/project carried out?
AVF leveraged multi-faceted approach comprising of the following activities;
i) interactive radio magazine
ii) 1-to-1 mass health communications
iii) social media discussions,
iv) rapid socio-epidemiological analysis:duty bearers were informed with timely trends, early warning and risk analysis on COVID-19.
v) RCCE coordination and innovation
What impact has the RCCE and SBCC campaign had on the people of Somalia in terms of COVID-19 Pandemic effects on gender equality and social inclusion?
Actionable recommendations made a significant contribution towards informing humanitarian planning and prioritization by different actors in Somalia. For instance, two organizations namely MESH and Minority Rights Group International reached out to AVF for knowledge sharing purposes. 

Evidence

suggests significant improvements in knowledge on COVID-19 for those who engaged with

Imaqal

. 

The shows targeted

positive role models and religious leaders

to impact knowledge, shift attitudes and behaviors towards right health practice to COVID-19.
Which messages from listeners stood out for you that you would like duty bearers to get note of them?
We take inspiration and pride from the fact that we have enabled large-scale, inclusive and meaningful discussions, at a time when it was needed most. Over the course of the RCCE programming, a total of 140,445 messages were received from 35,186 citizens. Some of the stand out messages that we would like to be heard, shared and valued are from the last show when we asked whether the KAAHA NOLOSHA (Life's Dawn) conversations had been useful to the community during the pandemic to better determine the level of understanding and value of the show among the respondents. Almost 79% said yes, and 15% said no. 
Below are sample messages we received from participants during the last two shows: 
Haa sababtu waxey tahay bulshada ayay sin jiren taloyin cafimad si ay naftoda uga xakameyan xanunka safmarka
"Yes, they used to give the community health advice so that they can prevent themselves from the disease." Woman, 20, Recently displaced.
haa waxtar ayey ulahaayeen waayoo wexey fahmaayeen wax walba oo looga hortegi karo cudurka karoona
"Yes, it was helpful because they understood everything that can be used to prevent the disease." Man, 26.
Haa maxaa yeelay waxa AY wax tar uleyihiin bulshada
"Yes, because they are useful to the community." Man, 41, Recently displaced.
What do you think can be done to improve AVF's methodology in Somalia?
AVF's methodology has never been seen before. We listen to authentic citizen voices in spaces they value and turn this engagement into evidence for more participatory, responsive and accountable governance as well as bring change on gender equality and social inclusion. There is real value in enabling people to speak in their own language, on their own terms. Through the analysis we generate evidence for decision making. 
Using radio and mobile technology in tandem is one of the most cost-effective ways of reaching citizens. However, one of the challenges in Somalia is that the media formats still have an urban bias and men send us their views via SMS more than women do. 
AVF's methodology in Somalia can be improved by linking media formats with Interactive Voice Response and on-the-ground activities (which we have tested in previous projects) to avoid exclusions of key marginalised groups such as the elderly and those who can't read and write.