Four things you need to know about how we work.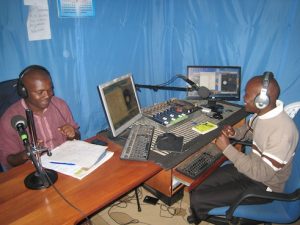 Africa's Voices Foundation (AVF) is a UK registered charity with a branch office in Nairobi, Kenya. We use interactive radio (radio programming and SMS communication) to create inclusive and trusted spaces of public discussion that can drive social change. To do this, AVF combines media engagement, social science research, and technology. In 2020, we received over 420,000 messages through SMS from citizens in Kenya and Somalia who shared their views on a range of topics raised in interactive radio shows. 
The messages are sent by citizens to a free shortcode provided by AVF and advertised in the shows alongside a single open-ended question. In addition, AVF has developed a capability through which we pull and analyse comments shared on our Facebook posts and are currently exploring engaging respondents through WhatsApp and telegram. AVF analyses all the messages of participants who choose to participate so that people's views can be meaningfully taken into account. This helps to create programming that is informed by citizens' views across a range of issues, such as health, governance, education and the environment. It also enables feedback and accountability from citizens to decision-makers, partners and donors.
We work in two thematic areas: Governance and Accountability and Citizen Evidence for Social Change
a). Governance and Accountability
Our Governance & Accountability (G&A) programme aims to change how citizens in African countries participate in decision-making processes that affect them. We achieve this by deploying our interactive radio method involving decision-makers, shaped by audience input (via SMS, instant messaging and social media), to create meaningful spaces for public dialogue. Connecting citizens, authorities, civil society and others in vibrant public discussion, Africa's Voices fosters crucial citizen-authority encounters where issues are addressed, action is identified, and those in power are held to account. We then turn these citizen voices into timely and compelling evidence at scale. We tell citizen evidence-based stories and support decision-makers through collaborative insight generation and ideas for action. In 2018, we launched the Common Social Accountability Platform (CSAP) in Somalia to enhance the inclusion of citizens in decision-making across peace-building, humanitarian and development programmes. The CSAP was piloted in Kenya's Siaya County in 2019 and replicated successfully in several other projects thereafter in Kenya and Somalia. 
b). Citizen Evidence for Social Change
Citizen Evidence for Social Change (CESC) leverages Africa's Voices' interactive radio and mixed-methods capabilities to put citizens at the heart of programme design and policy response in sectors ranging from education to public health, gender equality and livelihoods. Our interactive radio approach enables large-scale, plural and inclusive discussions to emerge which are contextually-based and citizen-driven. This is immensely valuable in itself, particularly in contexts where the space for public debate is limited. Understanding citizen voice allows Africa's Voices to help our partners better design programmes and policies in line with citizen needs and opinions. In addition, this citizen voice-centred approach is a valuable tool in unravelling social norms that underpin harmful practices, determining key drivers of social and behaviour change and tracking the shift in beliefs over time. In the media-enabled discursive spaces we curate, negative views can be contested by the public itself and positive attitudes for social change can be made visible. Premised on a theory of change that prioritises how media can shift perceptions on social norms by amplifying positive narratives in social settings, this model can be applied to Social and Behaviour Change Communication (SBCC) programming to ensure a more contextual and participatory change process where citizen voices are the driving force of the process.
2. We engage citizens in large scale using media and generate evidence to inform decision making processes
Using our core capabilities, we enable our partners to listen to the views of ordinary people as expressed in real social spaces. We draw on a unique combination of three core capabilities to enable authentic, unfiltered citizen voices to be heard all the way to decision-making. Our work is divided into the following key outcomes:
Engagement and media: we engage citizens in large-scale public discussions on priority issues using media, especially radio.
Evidence: we listen to authentic citizen voices in spaces they value and turn this engagement into social insights that act as powerful evidence for more participatory, responsive and accountable governance. 
Action: Influence authority to act on citizen voices. 
3. Participants' SMS inform our radio discussions 
Africa's Voices ensures that important decisions made by governments, civil society organisations, the aid sector and the private sector take into account the views of citizens. We facilitate this by analysing the opinions of participants and meaningfully turn these thousands of opinions into actionable insights. In addition to sharing these insights with key stakeholders like government or civil society organisations, we also feed these back to participants by incorporating them in the radio shows and also directly via SMS. This helps to ensure that radio shows and other discussions in other media are relevant to citizens and also that we are transparent and accountable to those who share their views.
4. Your data is safe! We comply with personal data protection regulations.
AVF only analyses a message if the participant has proactively sent us an SMS after hearing about us in a radio show or advert, received our informed consent via SMS, and if the participant has not opted out after receiving this informed consent. We anonymise the data before analysis. Our systems automatically de-identify messages by replacing phone numbers with a unique ID. We only conduct analysis after the consent process and on anonymised datasets. Access to these datasets is limited to authorised employees of AVF only. We transfer and store the anonymised data sets securely, and password-protected to ensure only authorised access. Our analysis is published and reported as statistical aggregates and anonymised quotes, meaning we do not share any phone numbers or any messages or portions of messages that contain identifiable information. Data is not kept for longer than is necessary for the purposes of the consultation and destroyed after this time, unless a participant has given explicit opt-in consent to keep it for longer if we requested it. Our robust Data Protection policy is guided by the European Union's General Data Protection Regulations (2018) and the Kenya Data Protection Bill (2019). We have also endorsed the Principles for Digital Development.