Hello AVF's Friends!
It seems like 2021 has just flown by, at this point it is vital to appreciate our donors, clients, beneficiaries, and friends for your support and partnership. We look forward to working together in 2022.
The eve of a new year presents us a chance to reflect on our success and challenges. The season is synonymous with wrapping up projects, wrapping presents, planning for our new priority areas in the coming year, as we also re-unite with those close to us.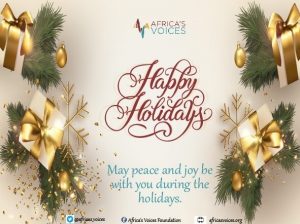 2021 has been a year of learning for everyone, either at the individual or team level. At AVF, our team has ensured that citizens' voices are heard by decision makers and that members of the public drive the process of social change in their communities to eradicate norms that underpin social harms like gender based violence, female genital mutilation, early marriage among others. We take deep pride in having spearheaded change in communities in various ways, from promoting girls education in Daddab and Kakuma refugee camps in Kenya, to collecting citizens' feedback to improve youth participation in Banadir Regional Administration in Somalia, among others (AVF 2021 Annual report outlining all engagements with citizens will be shared in due course.)
Using our interactive radio and SMS methodology, we build inclusive dialogue spaces that bring together citizens and decision makers. The interactive radio and SMS methodology is tried and trusted, a unique approach having been deployed for more than seven years. The methodology is driven by the creative thinking of our team in Nairobi and augmented by colleagues at the University of Cambridge, United Kingdom. The team is currently exploring ways of integrating interactive voice response (IVR) systems to reach out to targets who can't read and write.
As your organisation identifies the challenges it needs to solve to increase citizen engagement and reach far-flung citizens, the team at AVF looks forward to partnering with you to listen to the views of your target citizens and incorporate them into your decisions.
On the contrary, we are delighted to share our newsletter for the fourth and final quarter of this year. The newsletter provides a summary of what our team has achieved for the last four months. For more details, please visit our website or Twitter account.
From all of us at AVF, we wish you a wonderful holiday season, a healthy and successful year ahead.