From June to September 2023, Africa's Voices embarked on the sixth season of the Learning through Education and Access to Employment Pathways (LEAP) project in Kakuma Refugee Camp and Kalobeyei Settlement. Supported by World University Services Canada (WUSC), this initiative aimed to unravel the barriers hindering the journey towards self-sufficiency and independence from aid reliance for both host and refugee communities. Special attention was dedicated to understanding the challenges faced by young women in transitioning to skills training and career opportunities. Through an innovative six-week interactive radio dialogue, community engagement activities, and collaboration with local partners, Africa's Voices sought to ignite positive change.
The Africa's Voices team worked with project stakeholders and  co-designed a  comprehensive communication framework, encompassing the topics for radio questions and drama listening clubs that perfectly aligned with the season's focus.
Engagement summary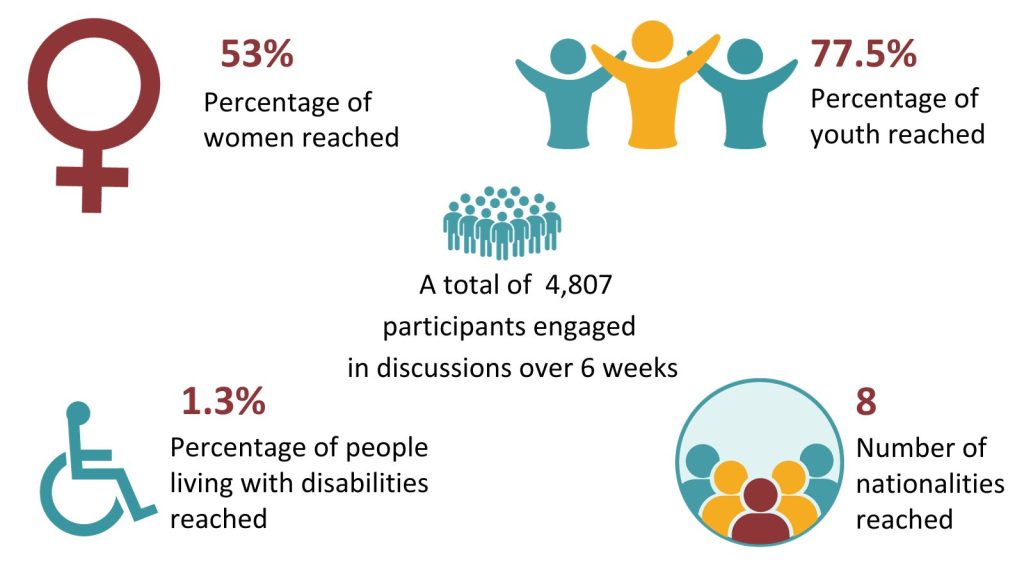 Key findings
Entrepreneurship as a path to financial independence:

Residents identified starting businesses as a crucial step toward financial independence, with 56.8% of participants recognising it as a key income-generating activity for young women. The willingness of participants to overcome challenges and explore table banking highlighted the importance of business mentorship. 

CBC curriculum awareness:

Over one-third of participants expressed strong support for raising awareness about the Competency-Based Curriculum (CBC) among parents. To address perceived complexities, continuous sensitisation and training were recommended, including the use of various media channels for disseminating educational materials. 

Nepotism as a barrier to employment:

More than one-fifth of participants reported nepotism as a significant barrier to employment. Advocating for transparency and equal opportunities is crucial to ensure equitable access to job opportunities for young people in the region. 

Financial management for success:

The practice of sound financial management was supported by 31.3% of participants, emphasising the need for training sessions on business planning, budgeting, and expenditure management to enhance financial literacy. 

Negative perceptions hindering SRH programs:

Negative perceptions about Sexual and Reproductive Health (SRH) matters were expressed by 21.3% of participants, acting as a barrier to effective SRH programs. Community-led awareness campaigns were recommended to address these issues. 

Community-led initiatives against GBV:

Approximately 28.6% of respondents highlighted the active engagement of community members in awareness campaigns against Gender-Based Violence (GBV). Supporting community leaders' training and fostering positive relationships were underscored as essential strategies. 

Proactive strategies for success:

Young individuals proposed various remedies for overcoming obstacles, including saving financial support, avoiding negative influences, seeking mentorship, and creating online job opportunities. 

Empowering young mothers

: Empowering and motivating young mothers to return to school was emphasised, with community-wide engagement and support in the form of basic necessities and scholarships considered instrumental.
Key recommendations 
Comprehensive financial literacy programs:

WUSC should collaborate with partners to implement professional lessons, mentorship, and business management seminars, addressing financial literacy gaps. 

Promotion of unconventional income-generating activities:

Livelihood interventions should promote unconventional income sources, such as agriculture, and establish Information Technology and entertainment hubs to guide technology-based income generation. 

CBC curriculum simplification campaigns:

WUSC and partners should conduct awareness campaigns using radio and community engagement to simplify and clarify the CBC, collaborating with the government for financial assistance and learning materials. 

Advocacy for fair hiring processes:

All agencies should advocate for fair and transparent hiring processes, equal job opportunities, and anti-corruption measures. Gender equality, competitive compensation, and improved working conditions should be prioritised.

Comprehensive SRH education initiatives

: Organisations should promote comprehensive SRH education in schools and communities, working with the Ministry of Education to dispel myths and provide counselling services. Interactive radio programs can play a crucial role in community-wide sensitization. 

Support for GBV survivors:

Agencies should develop interventions addressing stigmatisation and raising awareness through media campaigns, offering scholarship opportunities for girls affected by GBV to facilitate their return to school.
Conclusion
The LEAP project's findings and recommendations provide a roadmap for transformative change in Kakuma Refugee Camp and Kalobeyei Settlement. By implementing these insights, stakeholders can contribute to fostering self-sufficiency, equality, and empowerment, creating a brighter future for both host and refugee communities in the region with a focus on young women and girls. 
Photo by Vodafone group