Young girls living in refugee camps face many challenges including high levels of poverty, abuse, and poor education. Thanks to Africa's Voices Foundation, hundreds of them are set to be engaged via radio to contribute to social behavior change to allow  social economic   and life skills empowerment, fight violence against girls and children, improve girls' education outcomes, and enhance child protection in the community.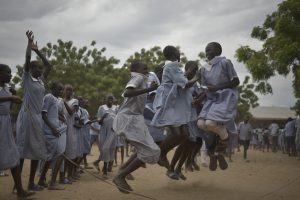 With funding from the World University Service of Canada, Africa's Voices Foundation is in Kalobeyei Settlement to support the implementation of the WUSC's Learning through Education and Access to Employment Pathways (LEAP) programme. Africa's Voices will deploy it's interactive radio methodology and mentorship approach to counter the social norms that hinder girls from realising their dreams. The interactive radio approach will be enhanced by on-the-ground interventions, such as listening group discussions and girls mentorship.
The project will aim to contribute to WUSC LEAP key objectives on;
Improving learning outcomes for adolescent girls and young women in Kalobeyei and surrounding host communities by deploying Social Behavioral Communication and gender responsive approaches to actively support and address barriers to adolescent girls and women education.

Contribute to increased equitable participation of young women in the formal and informal workforce by improving attitudes of family and community members in allowing young girls and women decision making on employment pathways and their participation in gender responsive and market based skills training opportunities.
Since 2018, Africa's Voices Foundation has supported girls' education in Kakuma and Dadaab refugee camps, under the Kenya Equity in Education (KEEP) II programme implemented by the World University Service of Canada (WUSC). KEEP II aimed to better understand the social norms, collective beliefs and practices hindering or enabling girls' education in Kakuma and Dadaab refugee camps and their host communities.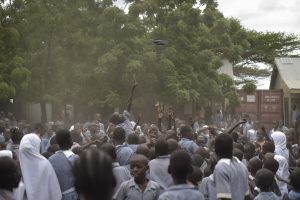 According to the evidence gathered from participants during KEEP II in the targeted camps, some of the barriers to girls' education include negative social norms, poverty and financial constraints, gender stereotypes, cultural practices and religion. Africa's Voices banks on the insights and experience gained during KEEP II programme to deliver this new project under the LEAP programme.
The Africa's Voices Foundation methodology uses radio programmes in tandem with SMS feedback and follow-up SMS surveys to gather community voices and unpack and probe collective beliefs whilst facilitating collective discussions for social change regarding girls' education.
Through radio dialogues, audiences drive radio programming by sharing their perspectives via SMS to a free to sms short-code in response to open-ended questions posed on media platforms. Combining data analysis and social science, and with participants' consent obtained through follow-up messages, AVF generates robust insights on public opinion, beliefs and attitudes about critical issues.